I made this, partly because I had almost everything already!
http://www.myrecipes.com/recipe/garden-alfredo-chicken
I used the white meat from a rotisserie chicken, which made it even easier. And four small squashes.
Great dish! I particularly loved the pappardelle pasta, which I'd never had before!
Lee
Garden Alfredo with Chicken (from Cooking Light)
Ingredients
1 pound skinless, boneless chicken breast halves
5/8 teaspoon kosher salt, divided
1/2 teaspoon black pepper, divided
Cooking spray
6 ounces uncooked pappardelle pasta
2 medium zucchini
2 medium yellow squash
2 teaspoons olive oil
5 ounces thin asparagus spears, trimmed
1 red bell pepper, cut into thin strips
6 garlic cloves, thinly sliced
3/4 cup fat-free, lower-sodium chicken broth
1/2 cup half-and-half
2 teaspoons all-purpose flour
2 ounces Parmesan cheese, grated
2 tablespoons fresh flat-leaf parsley leaves
Preparation
1. Heat a large skillet over medium-high heat. Sprinkle chicken with 1/4 teaspoon salt and 1/4 teaspoon pepper. Coat pan with cooking spray. Add chicken; cook 4 minutes on each side or until done. Remove from pan; let stand 5 minutes. Cut chicken across the grain into thin slices; keep warm. Reserve drippings in pan.
2. While chicken cooks, cook pasta according to package directions. Drain; keep warm.
3. Cut each zucchini and squash in half crosswise. Cut 1/2-inch slices from outer "walls" of zucchini and squash; discard cores. Slice pieces lengthwise into thin strips.
4. Heat a nonstick skillet over medium-high heat. Add oil; swirl. Add zucchini, squash, asparagus, and bell pepper; sauté 3 minutes. Sprinkle with 3/8 teaspoon salt. Add garlic; sauté 2 minutes. Remove pan from heat.
5. Combine broth, half-and-half, and flour; stir with a whisk. Add broth mixture to reserved drippings in skillet. Bring to a boil; cook 2 minutes or until slightly thickened, stirring constantly. Remove from heat. Add cheese; stir until cheese melts. Add pasta, vegetables, and chicken; toss. Sprinkle with 1/4 teaspoon black pepper and parsley.
Asparagus and red pepper
Summer squash and zucchini
Garden Alfredo with Chicken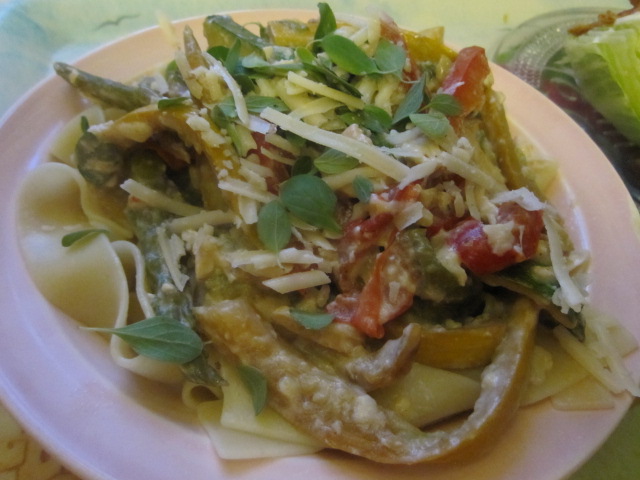 Served with my first Cherokee Purple tomato (FABULOUS flavor!)