This recipe is from my friend in Arizona. We both made it today.
Delicious! Very hearty and filling, and the contrast between the cold, crunchy toppings and the hot, soft soup is wonderful!
Lee
Pork Steak Posole
2 pork steaks (about 2 lbs), cut into bite-sized cubes
3 15 oz cans hominy, drained and rinsed
1 whole head garlic, peeled
1 T. dried Mexican oregano
Place pork cubes in pot and cover with water. Add a head of garlic cloves. Bring to boil, skim off foam. Add Mexican oregano. Reduce heat and simmer for half hour to 45 minutes, until pork is tender.
Remove pork and set aside. Strain broth. Put soft garlic in a medium sized bowl in which you will make the chile sauce.
Add the pork cubes back into the broth. Add cans of hominy. Heat this mixture over low.
Chile sauce
4 dried chile peppers (I used 2 pasilla and 2 guarillo), split and seeded
3 plum tomatoes
1/2 a large sweet onion
cup of chicken broth
Place seeded chiles in a frying pan and toast, dry, until fragrant. Do not burn! Use the same pan, or move the peppers to a sauce pan, and cover with water. Bring to boil, then remove pot from heat and let the peppers soak in the pot, covered for 30 minutes.
Cut the tomatoes in half and the onion into wedges. Brush all with olive oil, season with salt and pepper. Roast in a 400 oven for 15-20 minutes.
When peppers and vegs are cool enough to handle, roughly chop them and add them to the bowl with the garlic. Add some chicken broth and carefully use hand blender to puree the mixture (watch out for splatter). Add more chicken broth to make a liquid that's easy enough to strain.
Strain sauce.
Add some of this sauce to the pork and hominy soup. Add a spoonful at a time until you get the amount of spicy heat you like.
Toppings
Corn tortilla chips (homemade or storebought)
Shredded cabbage (I bought a bag of it)
Avocado
Red onion
Shredded cheese
Mexican oregano
Squeeze of lime
Pork steaks
Roasted tomatoes and onions
Dried guarillo chiles
Strained chile sauce
Canned hominy
Finished soup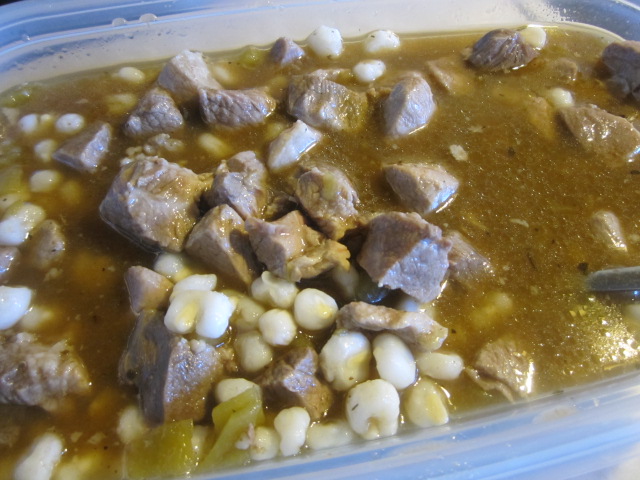 Toppings
Plated