Peep's Instant Pot Minestrone Soup
Prep Time: 10 minutes
Time to come to pressure: ≈15 minutes
Cook Time: 4 minutes
Total Time: ≈19 minutes
Servings: ≈6
1 (15 oz.) can kidney beans, undrained
1 (15 oz.) can cannellini beans, undrained
1 (14.5 oz.) can diced tomatoes, undrained
1 (32 oz.) box/can beef broth (for meatless use vegetable broth)
1 small onion, chopped (≈1 C.)
2 ribs celery, chopped (≈1 C.)
3 medium carrots, sliced (≈1 C.)
3 oz. fresh baby spinach, rough chop (I used 1/2 a 6 oz. bag)
1 C. uncooked small pasta (I used small shells)
Place all canned/boxed ingredients into inner pot.
Clean and chop/slice all of the vegetables.
Add vegetables and uncooked pasta.
Stir well to combine all ingredients.
Lock on lid and set Valve to Sealing.
Select Manual and set to 4 minutes.
When cook cycle is finished (beep sounds), Move valve to Venting (QR - Quick Release), when pin drops remove lid.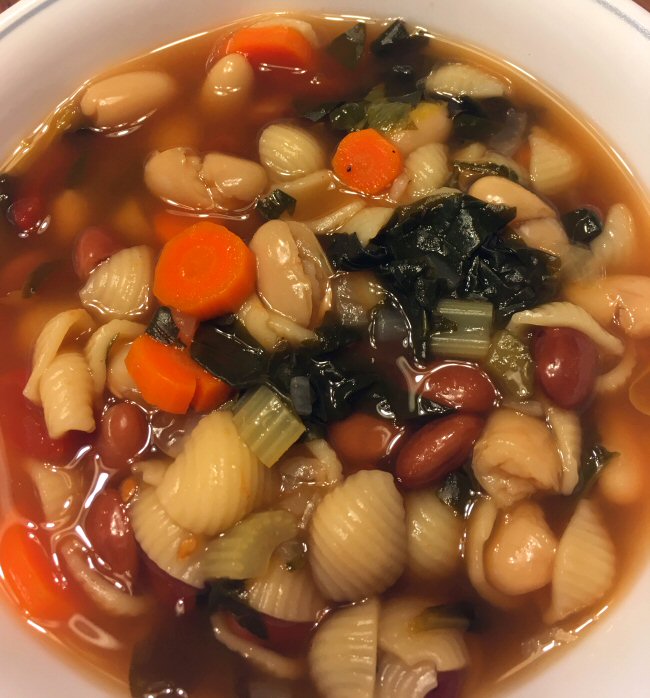 Serve topped with freshly grated romano and/or parmesan cheese if desired.