The shakshuka can be made with or without the kefta. The kefta can be made of ground beef or lamb. We used lamb. We served it with the khobz.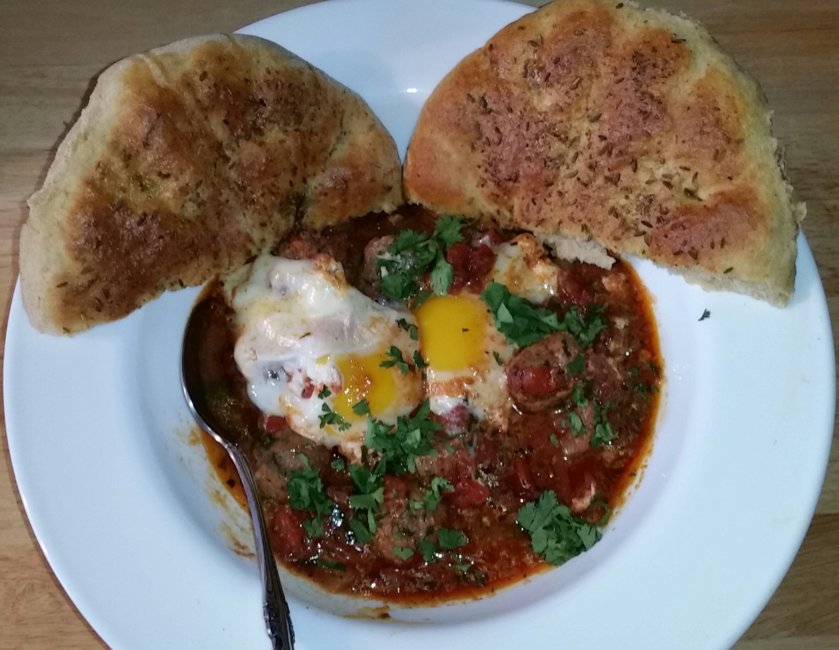 Kefta
1 lb/450 grams ground lamb and/or beef
1/2 large onion, grated
2 Tbsp chopped fresh parsley
2 Tbsp chopped fresh coriander
Leaves of 4 mint sprigs, chopped
1 tsp paprika
1 tsp ground cumin
1 tsp salt
1/2 tsp ground black pepper
1/8 tsp cayenne pepper or to taste
Thoroughly combine all ingredients in a large bowl. Shape as desired. Place into refrigerator until needed.
Shakshuka
- I doubled the sauce since my husband likes his sauces. If you are not using the meatballs, you might want to halve the sauce recipe.
2 Tbsp olive oil
1/2 large onion, chopped
1/3 cup chopped green bell pepper
1 large jalapeno, stemmed, seeded, chopped
4 garlic cloves, peeled and finely chopped
2 cans (400gr/14 oz) chopped tomatoes or 10 ripe medium-size tomatoes, chopped
2 Tbsp chopped fresh parsley
2 tsp ground cumin
2 tsp paprika
1 tsp salt or more to taste
1/2 tsp ground black pepper
1/4 tsp of cayenne pepper
4 eggs
2 tsp chopped fresh cilantro for garnish
For the kefta, make about 1 inch/2.5 cm balls. I use a scoop as it's faster and makes them more even. Refrigerate.
Heat the oil in a large saute pan, add the onions and fresh peppers and saute until onion is almost translucent, add the garlic and saute for an additional 1-2 minutes. Add the tomatoes and next 6 ingredients. Stir to combine. Bring to boil, cover, and simmer over low heat until mixture thickens into a nice sauce, about 25 minutes. Add the meatballs to the sauce, cover and cook for 7-8 minutes. Move the meatballs around until you have 4 clear areas for the eggs. Break an egg into a small bowl, then slip the egg into 1 of the clear areas. Repeat for the remaining 3 eggs. Cover and cook for 4-5 minutes. Egg yolks should still be runny.
With a large spoon, scoop out some sauce and meatballs and place into a large bowl. Gently scoop out an egg and place in the middle. Garnish with fresh chopped cilantro, and serve immediately with bread.
Khobz
1/2 cup AP flour
1/2 cup whole wheat flour
1 cup farina OR semolina OR barley OR corn OR oat flour.
1/2 Tbsp dry yeast.
1/2 Tbsp sugar
1/2 tsp salt.
1/2 Tbsp olive oil.
1/2 egg (1 egg whisked in a small bowl, reserve other half)
1/2 cup warm milk.
1/2 cup warm water.
Egg wash
Reserved 1/2 of egg from above
1/2 tsp milk
1 drop white vinegar.
Toppings:
White or black sesame seeds, cumin seed, fennel seeds, nigella seeds. I used cumin seeds this time and broke them up with a couple of pulses in a spice grinder.
Add first 6 ingredients in a large bowl and mix well. Add oil, 1/2 of the beaten egg, and milk, mix well. Gradually add water until you have a sticky dough. Knead in bowl a few times. Cover bowl with plastic wrap and let rise in a warm place until doubled, 1 to 1-1/2 hours. Turn dough out onto a floured board and divide into 4 equal pieces. Roll each piece out into an approximately 1/4 inch/7 mm thick circle. You can roll thinner if you wish for a crispier bread. Lightly score each piece of bread into quarters with a sharp knife. Mix egg wash ingredients together in a small bowl. Brush tops of breads with egg mixture and sprinkle with your choice of toppings. Let rise in a warm place about 30 minutes. Preheat oven to 350 F/175 C. Bake for 15 minutes until bottoms are nicely browned. Turn on broiler and brown tops. If you rolled dough out thinner than above, you will have to adjust baking times downward.
Serve hot with butter or with any tagine.